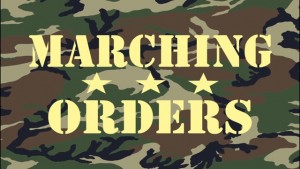 The Bible is a book of marching orders. And we don't take well to orders. We want gifts from God, not orders. And we keep praying to God, not for orders, but for gifts. We have the whole thing reversed. We do not say, Here am I oh Lord, send me, what are your orders for me this day? No, we thumb through the Bible to find a happy word for the day.
To shift our responsibility for the conquest for all things for Christ our King from ourselves to institutions is to warp our mandate. It is doing pastors an injustice if we expect them to do our work. They are to teach us, they are to instruct us in the word of God but we are to do the marching. They are the sergeants training the troops.
So the church must serve us educate us, and guide us. But God judges us primarily and we cannot hide in the church on Judgment Day.  It won't work. We are the Royal Priesthood, the empowered people of Chirst. Our education therefore must be Biblical. The Bible is God's Command-Word. We must reestablish the relationship between reading and the Bible, between faith and action, and between faith and victory. Because as John tells us, "This is the victory that overcomes the world, even our faith." This is our calling.
RJR – Educating Christian Children Tape 1A